UNDERWATER SERVICES IN VIETNAM
HMS - Haiphong Marine Services is an experienced and highly experienced commercial diving company currently operating in all ports and anchorages along Vietnam. Our projects are being undertaken to achieve excellence in quality and efficiency following IACS & IMO standards.
We always provide and serve our customers with excellent service, fast, efficient and best price.
Underwater works in Vietnam is including following services.
     ► Complete hull surveys, including diving reports and video colour photography documentation.
     ► Complete running gear inspection, including struts, fairwaters, rope guards, propellers.
     ► Underwater inspections on rudders and bearings.
     ► Dry-dock extension inspections in compliance with all major classification societies.
     ► Pre and Post dry dock inspections.
     ► Special inspections at request of ship owners' representative, classification inspectors, surveyors and insurers.
     ► Pre-purchase, pre/post charter surveys.
     ► Damage assessment inspections.
     ► Hull coating inspections.
     ► Bottom survey at berths or anchorages to locate and remove obstructions hazardous to vessels.
     ► Underwater paint / epoxy / coating inspection and application.
     ► And other Services in Underwater as following: Propeller Polishing, Underwater Welding, Underwater plug for renewal/repair overboard pipelines and valves, Underwater plug for renewal/ repair Speed log, Underwater cutting ropes and cleaning sea chest …etc.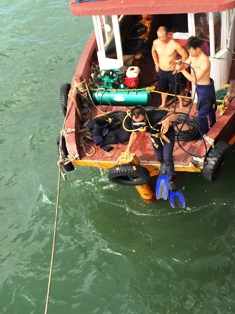 We provide underwater services anywhere in Viet Nam.
We can arrange Underwater Cleaning and Underwater Inspection for Vessel at CAM PHA PORT, HA LONG PORT, HONGAI PORT, HAI PHONG PORT, NGHI SON PORT, VISSAI PORT, SON DUONG PORT, PHU MY PORT, CAI MEP PORT, GO GIA PORT, VUNG TAU PORT...ETC.
Please contact us as soon as you need to get the best service experience.
Contact us:
Haiphong Marine Services Co. Ltd
Address: 27/633 Thien Loi street - Le Chan District - Hai Phong City
Email: info@haiphongmarine.com
Phone number: +84 947 739 556 - HOTLINE: +84 947 739 556
Website: http://haiphongmarine.com