DRY DOCK SERVICES IN VIETNAM
HMS – Haiphong Marine Services provides Dry Dock service for all types of ships that need repair in any ports or anchorages in Vietnam.
HMS – Haiphong Marine Services will be the best choice for you when you need dry dock service in Vietnam
HMS – Haiphong Marine Services Company is a leading provider of dry dock services for ships, boats, and other watercraft. Our state-of-the-art dry dock facilities are equipped with the latest technology and staffed by experienced professionals to ensure that your vessel receives the highest quality care and attention.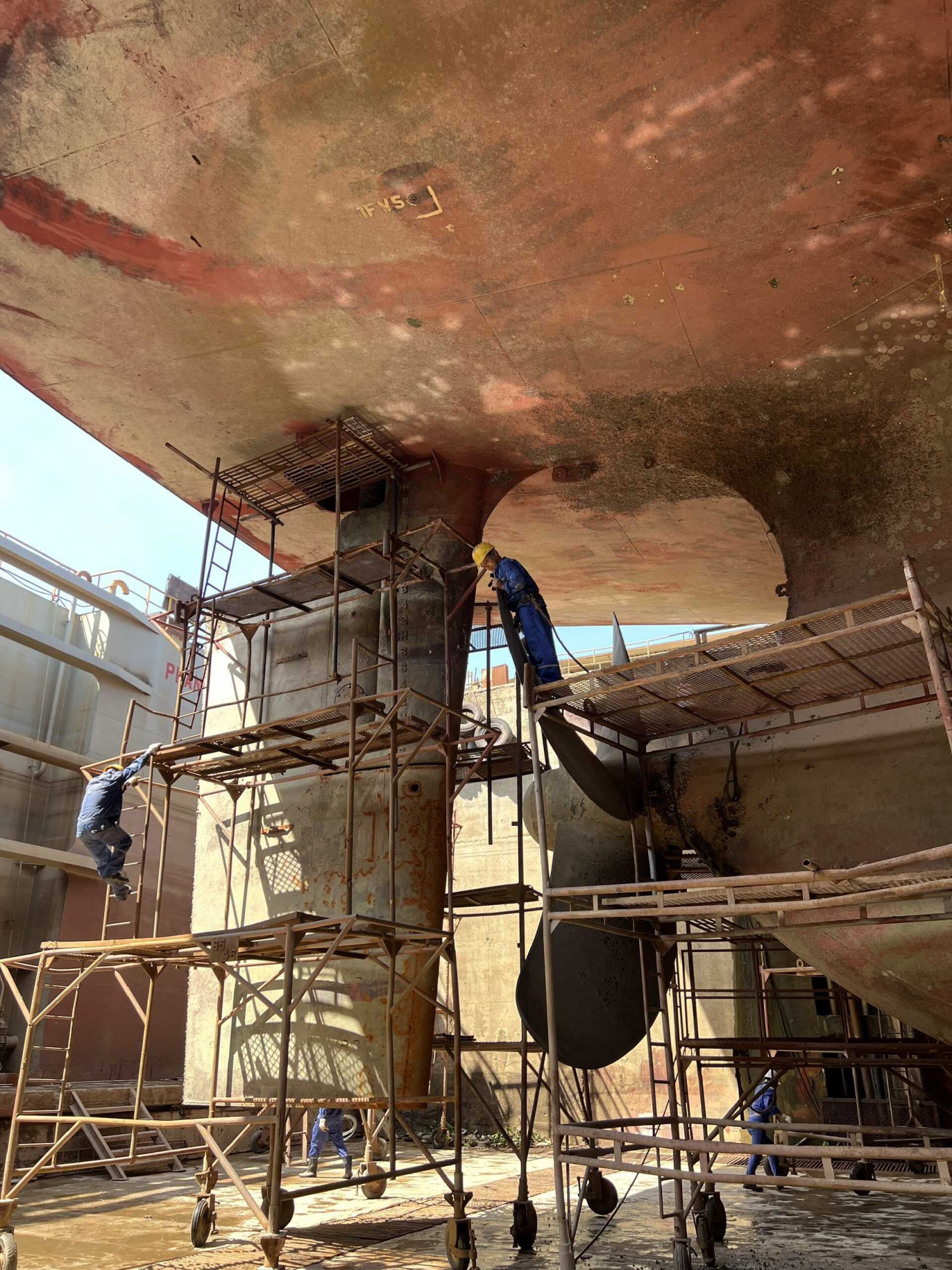 Whether you need routine maintenance, major repairs, or upgrades to your vessel, our team is here to provide the expert support you need. Our dry dock services include hull cleaning and painting, engine maintenance, electrical and electronic systems maintenance, rudder and propeller repairs, structural repairs, ballast tank cleaning, and marine life growth removal.
We are committed to ensuring that your vessel is in top condition and ready to take on any challenge. Let HMS – Haiphong Marine Services Company be your partner in maintaining the safety, reliability, and performance of your watercraft.
What we can do for your ship when drying dock?
HMS - Haiphong Marine Services is a leading company in providing marine services, ship repair in Vietnam. So we also provide a lot of services that come with dry dock service such as:
     - Hull cleaning and painting: to maintain the integrity and appearance of the vessel's exterior.
     - Engine maintenance: to repair or replace faulty engine components, such as propellers and shafts.
     - Electrical and electronic systems maintenance: to repair or upgrade navigation and communication equipment.
     - Rudder and propeller repairs: to maintain the maneuverability and propulsion capabilities of the vessel.
     - Structural repairs: to fix any damage to the hull, deck, or superstructure of the vessel.
     - Ballast tank cleaning: to maintain the stability and seaworthiness of the vessel.
     - Marine life growth removal: to keep the underwater surfaces of the vessel free from marine growth, which can cause drag and reduce the vessel's efficiency
In Vietnam, Ships benefit from using dry dock services in several ways.
     - Maintenance and repairs: Dry docks provide a convenient and safe environment for performing necessary maintenance and repairs on a ship. This helps to keep the ship in good condition, improve its efficiency and extend its lifespan.
     - Increased safety: By carrying out repairs and maintenance in a dry dock, ships can avoid having to perform these tasks in rough seas, which can be hazardous for both the crew and the vessel.
     - Improved performance: Regular dry dock services can improve a ship's performance by fixing mechanical and structural issues, cleaning and maintaining hull surfaces, and upgrading equipment.
     - Cost-effectiveness: Dry dock services can be more cost-effective than repairing a ship at sea. Dry docks also provide a controlled environment that can speed up the repair process and reduce the risk of additional damage to the ship.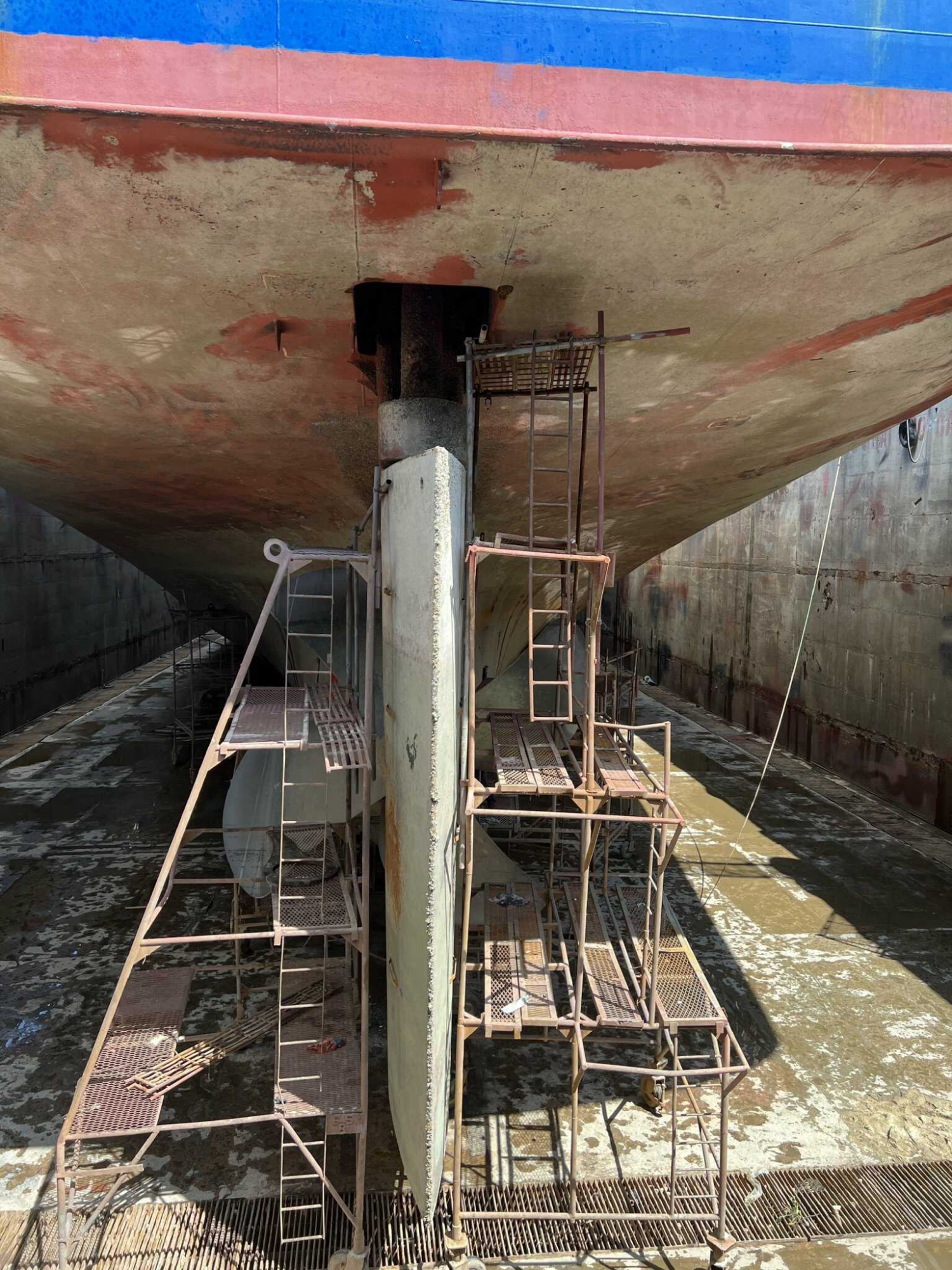 We provide dry dock service or floating dock service in Vietnam for all types of ships that need repair and maintenance. We make sure we can plan the best for your vessel when your ship needs dry docking or urgent docking. Some dock yard specifications for reference:
- Dry Dock:
     + L160m x W25m x 16.000DWT.
- Floating Dock:
     + L116m x W23m x 8.500DWT.
     + L160m x W33m x 9.600 DWT.
- Synchro lift System:
     + L224m x W35m x 70.000DWT.
Contact us to get the best, fastest and most affordable dry dock service.
HMS – Haiphong Marine Services is always ready to provide dry dock service or any marine service, ship repair in Vietnam when you need it. To ensure the safety and progress of your ship, do not hesitate to contact us when your ship has a problem, we will quickly be there and offer the best solution plans so that your ship can dry docking quickly and safely.
Please contact us with the information below, we will always be the best companion for your ship when visiting Vietnam.
Contact us:
     Haiphong Marine Services Co. Ltd
     Address: 27/633 Thien Loi street - Le Chan District - Hai Phong City
     Email: info@haiphongmarine.com
     Phone number: +84 947 739 556 - HOTLINE: +84 947 739 556
     Website: http://haiphongmarine.com